Chickpea Almond Stir "Fry" and TVP Spring Rolls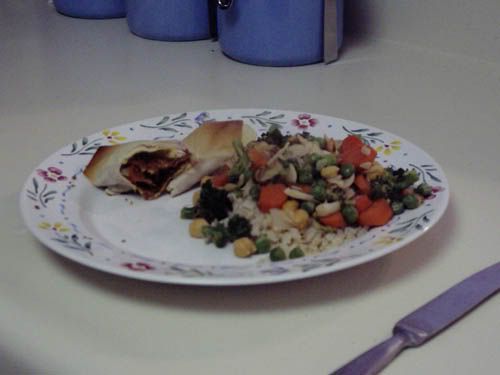 So, this isn't really a stir fry, because its not fried. . .and its not really spring rolls because its baked. I'm starting my blog off with a bunch of fake stuff! lol!
It may not look that great in the picture (picture didn't turn out too great!), but it was really tasty. Here's what I did:
Chickpa Almond Stir "Fry"
1 1/2 c. water
3 t. veggie broth powder
1/4 c. soy sauce
2 c. broccoli, chopped
2 carrots, diced
1/2 onion, diced
1 clove garlic, minced
1/2 can chickpeas
1 c. peas
1/2 c. almonds
Cooked Brown Rice
Heat the water, veggie broth powder and soy sauce in a large fry pan until boiling. Add broccoli, carrots, onion and garlic. Simmer until broccoli is soft, but not mushy. Add chickpeas, peas, and almonds. Simmer 2-3 more minutes. Serve over rice.
TVP Spring Rolls
3/4 c. textured vegetable protein
3/4 c. water
1 T. soy sauce
2 carrots, shredded
1/2 onion, finely diced
1 T. olive oil
Spring Roll Wrappers
Preheat oven to 400°.
Boil water. Pour over tvp. Mix in soy sauce; let sit 30 minutes. Saute tvp, carrots and onion in olive oil 2-3 minutes or until veggies are soft.
Get ready to roll your spring rolls. Have your wrappers thawed and covered with a wet towel. Have a small bowl of water, your filling and a greased baking sheet nearby. Lay a wrapper in front of you so that it looks like a diamond. Use your finger or a brush to wet the edges. Place 2 tablespoons of filling (or less if you have small wrappers. Mine were quite large.) directly in front of the tip of the diamond, far enough back so that you can roll the tip of the wrapper over it. Roll the wrapper over the filling, pulling it towards you so its tight. Fold in the sides. Roll it up and use a bit of water to hold it shut. Set on baking sheet, seam side down. Roll the rest of your spring rolls.
Bake for 10-15 minutes or until golden brown.