Cupcakes!
I've been helping test cupcakes for
Isa and Terry
. They're writing an all vegan cupcake book!
Here's what I've tested so far: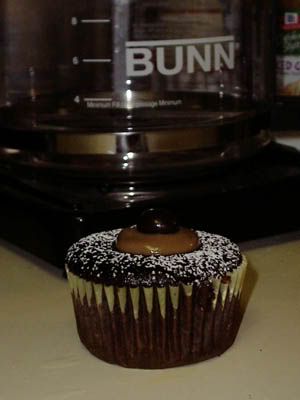 Cappuccino Cupcakes with Espresso Creme
These are coffee flavored cupcakes with just a hint of cinnamon. They are filled with a light coffee/espresso flavored creme. I also used some of the leftover filling to decorate the top. And, just to make it look pretty, I sprinkled it with powdered sugar and put a lovely chocolate covered espresso bean on top of the cream.
They were very yummy and coffee-y, so these are definitly a coffee lovers cupcake!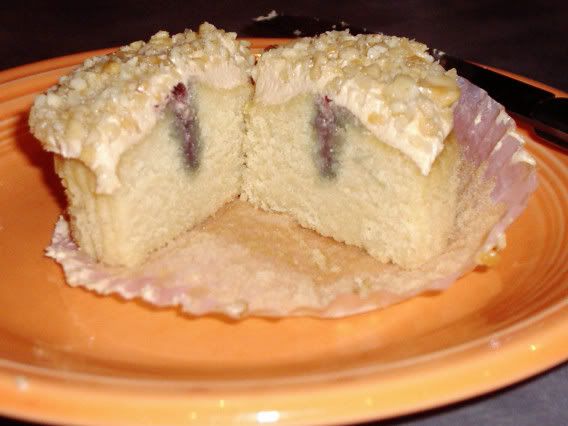 Peanut Butter and Jelly Cupcakes
I was just testing the frosting for these. Most of the recipes were cupcake and frosting all together, but this one was just the frosting. I decided to pair it up with the Isa and Terry's basic vanilla cupcake. Just to make it more fancy, I piped in some grape jelly. The frosting is a peanut buttercream. Its very light and fluffy. I decorated these cupcakes with crushed up peanuts.
I absolutely love peanut butter and this frosting is my favorite thing that I've tested so far. Everybody that I've shared my cupcakes with has said that this is their favorite too. Gotta love peanut butter frosting! They could have used more jelly though. It was my first time filling cupcakes, so I was just guessing at what I was doing. Couldn't see how much was in there until I cut it open.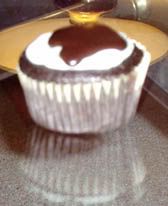 Chocolate Mint Cupcakes
These are chocolate cupcakes with a bit of mintyness to them. They are first iced with a mint frosting. The cupcakes just have a bit of mint, but the frosting is very minty. Its where the cupcakes get all their yummyness. It is then topped with a chocolate ganache to balance out the mintyness.
Some of my testers thought these were too minty, but I thought they were just right!