Mini Banana Bread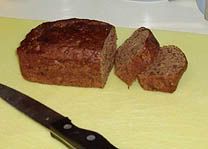 Isn't it cute!? I found a recipe for a mini loaf of banana bread. Its just four servings, which is awesome for me as I am just baking for myself. So I veganized/healthified the recipe and it turned out GREAT. I can't wait to try a bunch of variations of the recipe. Banana Nut Bread, Banana Chocolate Chip Bread, Banana Peanut Butter Bread, Banana Date Bread, Banana Oatmeal Bread. . .(I fear I'm starting to sound like Bubba Gump! hehe) Here's my recipe:
Mini Loaf Banana Bread
3 T. applesauce
3 T. sugar
1/4 t. vanilla
1/3 c. wheat flour
1/3 c. all purpose flour
1/4 t. soda
1/8 t. salt
1/4 t. cinnamon
2 bananas, mashed
Preheat oven to 325°. Coat a 5 3/4-in. x 3-in. x 2-in. loaf ban with nonstick cooking spray; set aside.
In a small mixing bowl, mix applesauce, sugar and vanilla. Combine the flours, soda, salt and cinnamon; add to creamed mixture alternately with bananas.
Transfer to prepared loaf pan. Bake for 50-55 minutes or until a toothpick inserted near the center comes out clean. Cool for 10 minutes then remove from pan and finish cooling on a wire rack.