My "I'm Sick" Lunch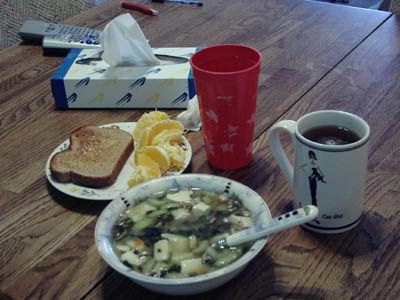 I was sick the other day, so this is what I made for myself to help me feel better. I had miso soup, an orange, toast, and green tea.
Miso Soup (adapted from
La Dolce Vegan
)
2 c. water
2 t. vegetable broth powder
1 clove garlic, peeled
2 T. miso
1/4 c. tofu, cubed
1 small carrot, grated
1 stalk celery, thinly sliced
1 button mushroom, diced
2 T. frozen spinach
In a small sauce pan on high heat, bring the water and vegetable broth powder to a boil. Reduce the heat and add the garlic; simmer for 8 minutes. Then fish out the ginger and turn the heat off. In a small bowl mix the miso with 3 T. of the stock. Stir until miso is smooth. Add the miso, tofu, and veggies to the stock. Cover and let it sit for 5 minutes. Serves 1.
Don't boil your miso-that destroys the health benefits.