Curried Barley and Lentils
Today I decided it was time to use up some of my lentils and barley. I searched out recipes that used both of them. I ended up kind of combining 2 recipes and adding my own twists based on what I had on hand. It came out really good!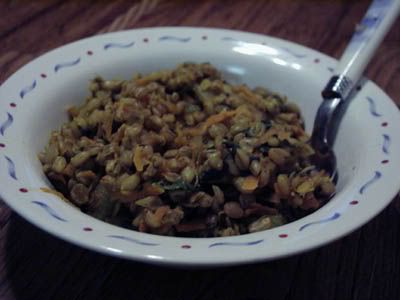 My Curried Barley and Lentils
2 t. olive oil
1/2 c. onion, diced
1/3 c. green bell pepper, diced
2 t. curry powder
1 1/2 c. barley, cooked (about 1/3 c. dry, I think)
1 c. lentils, cooked (about 1/2 c. dry)
1 carrot, shredded
1/4 c. frozen spinach, thawed
salt and freshly ground black pepper
Heat oil in a large sauce pan over medium heat. Saute onion, pepper, and curry powder until onion is translucent, about 5 minutes. Stir in barley, lentils, carrots, and spinach. Heat through. Season to taste with salt and pepper.