Garlic Stuffed Tofu and Maple-Mustard Potatoes and Beans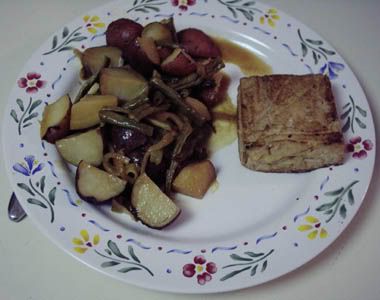 I got the idea for the tofu from tofu666 at
The Post Punk Kitchen Forums
. I marinated my tofu in soy sauce, balsamic vinegar, lemon juice, garlic, and some Italian spices overnight. I pan fried the tofu then cut a small slit in it and filled it up with roasted garlic paste. I then baked it for 15 minutes.
The Maple-Mustard Potato and Beans recipe is from
Vegan with a Vengeance
. It is my new favorite recipe in this book. Try it-you'll like it!