Harvest Ratatoullie over Whole Wheat Penne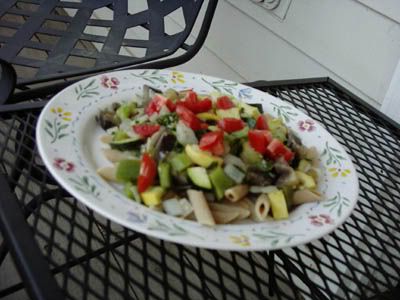 I made this veggie-ful pasta as part of a challenge at the
PPK Forums
. I love how beautiful all the colors look together, and it doesn't taste half bad either!
Harvest Ratatoullie
1 c. cubed eggplant
1/4 t. salt
1/2 onion, diced
2 cloves garlic, minced
1/2 green pepper, diced
1/2 medium zucchini, quartered then sliced
1/2 medium squash, quartered then sliced
1 T. minced fresh parsley
1 t. minced fresh oregano
1 t. minced fresh basil
1/8 t. fresh ground black pepper
Hot cooked pasta
1 medium tomato, chopped
Place eggplant in a colander and toss with salt. Set in sink and let weep for 30 minutes.
Heat a large skillet. Add the oil then stir fry the garlic, onion, and green pepper for 3 minutes. Add eggplant, zucchini, and squash and stir fry 6 more minutes or until vegetables are crisp-tender.
Stir in the parsley, oregano, basil and pepper.
Serve over pasta and topped with tomato.
And for desert I had this yummy sundae.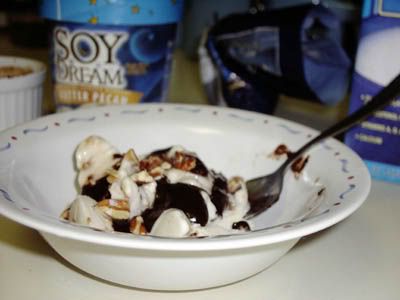 It was Butter Pecan Soy Dream, hot fudge sauce, and chopped pecans. Sooo good!