Thai Meal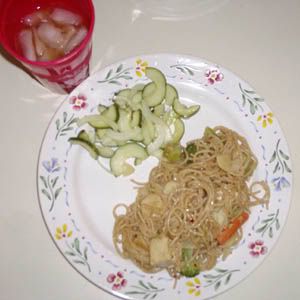 Spicy Peanut Noodles, Thai Cucumber Salad, and Thai Iced Tea
My peanut sauce is made with peanut butter (duh), soy sauce, brown sugar, garlic, ginger and red pepper flakes. I used a bag of mixed frozen veggies, for cheapness mostly, but it did also make things a bit easier. My mix had carrots, broccoli, cauliflower and bell peppers. I also added onions and some tofu that I marinated in soy sauce, brown sugar, garlic and ginger. This turned out pretty good, but next time I thing I'll add some more spice to it!
The cucumber salad is
this recipe
. It was good, but nothing too special. I will continue my quest to find a good thai side dish. Thai-ish spring rolls would be good, but I figure I've got noodles, do I really need more carbs? I may just have to go for it next time though.
The iced tea is from
How It All Vegan
. I just followed the Quick Thai Tea for Two recipe (halved it though) and added ice.